The decline will carry into 2021 with an additonal 5% drop. National TV is predicted to drop by 11% this year, and streaming TV will perform better than traditional TV with a loss of 3% in 2020 and a 15% increase in 2021.
Television advertising spending in the U.S. is expected to decline by 7% to USD 61.07 billion in 2020 and an additional 12% in 2021, according to a recent forecast released by GroupM. The media buyer projects national TV to drop by 11% this year.
GroupM includes streaming outlets such as Roku and Hulu in its national data. Streaming TV will perform better than traditional TV, losing 3% in 2020 and gaining 15% in 2021. Including about USD 8 billion in political advertising, local TV is predicted to be up by 1% in 2020. But core local TV advertising will be down 34% because of weakness in local retail and auto spending. Without an election in 2021, local TV spending will plunge by 40%.
The investment company suggests that all U.S. advertising spending will decline by 13% during 2020, with a 4% rebound in 2021. Digital advertising will decline by 3% in 2020, including for political advertising, but should see a 12% growth in 2021. GroupM figures that pure-play internet media properties will have a 49% share of the total ad market in 2020 and 54% in 2021.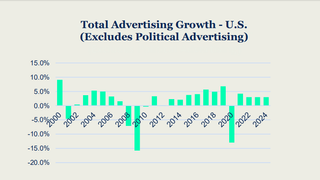 The report also noted the importance of professional sports as some leagues have developed plans to resume play. However, it is still unclear whether schedules will proceed as initially planned. "While some incremental advertising spending could certainly follow from the resumption of play, the specific impact on spending is probably limited because much of what would end up in sports inventory would end up elsewhere if sports did not resume," GroupM said.
The agency notes that the reduction of cord-cutting is inflicting on pay-TV viewing and ad-free streaming services attracting viewers "could fuel inflationary conditions." Over the longer term, GroupM sees television spending bouncing back and forth between the election and non-election years, finishing flat at USD 61.3 billion in 2024.
The report indicates that circumstances will go back to normal in terms of economics, despite the scale of decline and the measures currently in place."This is, of course, a key assumption on its own: the absence of much of a safety net for many people who will be severely impacted by the ongoing cataclysms represent risks to a broader economic recovery," the report said.
"
This is, of course, a key assumption on its own: the absence of much of a safety net for many people who will be severely impacted by the ongoing cataclysms represent risks to a broader economic recovery." GroupM